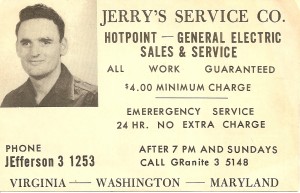 For this blog post I just wanted to share with you all the role appliance repair has played in my family for over 50 years. The picture to the left is my Grandfather, Jerry's, business card from the 1950's. He opened Jerry's Appliance Service in 1955 in Falls Church, VA. As you can see his minimum charge was only $4.00 back then! He worked hard day and night for many years building his company from a small start-up into a multi-million dollar a year full service appliance repair company. At one point he had as many as 10 vans on the road everyday providing service to Northern Virginia, Maryland, and DC. Many members of my family worked for the company including my Dad being one of his most popular technicians and my Mom, Grandmother, and Aunts working the phones in the office. Needless to say appliance repair has provided many an opportunity for my family to earn a living.
It is from the strength and determination of my Grandfather that I channel my own motivation to grow my company. I want to provide the same outstanding service and repairs that my Grandfather provided for so many years to the great people of Virginia, Maryland, and DC. Unfortunately, we lost my Grandfather, Jerry, to Alzheimer's about 5 years ago. My father now owns and operates his company. My hope is that my Grandfather will look down on what I am doing with my business and be proud that I am continuing his legacy. Some of my fondest memories as a child were hanging around his appliance shop or going out on service calls with him and my Dad. I learned so much over the years and feel very confident in my ability to provide lasting and honest appliance repairs.
Pop-Pop, this ones for you. It is in your name and your honor that I devote the integrity of my company. I will make you proud.
If you need any of the following please don't hesitate to call Presidential Appliance Repair at 703-608-0193: Refrigerator repair, dishwasher repair, washer/dryer repair, oven repair, garbage disposal repair, microwave repair, stove repair, range repair, freezer repair, or any other major appliance repair.