Problem:    "My washer stops during the spin cycle and doesn't spin."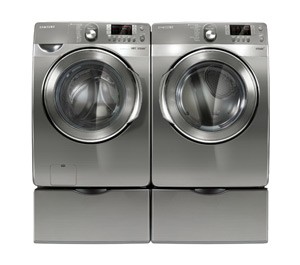 Solution:    If you have ever found your clothes soaking wet when going to change them from the washer to the dryer, more than likely your washer did not spin them adequately. They should be wet, but not soaking wet.  Depending on the style and brand of washer, many things can cause it not to spin.  The most common repair is a faulty lid switch or door latch.  The lid switch and door latch tell the washer if the door is open or closed. If the washer thinks the door is still open, then it will not spin.  However, if a very loud grumbling noise is heard when it is trying to spin, then it could be a broken motor coupling.  Schedule a service call today with Presidential Appliance Repair and a highly trained, knowledgeable technician will get your washer spinning again for a fraction of the cost of a new washer.
Problem:    "My washer is overflowing and won't stop filling with water."
Solution:   From flooded basements to damaged kitchen floors, we have seen some true horror stories when it comes to washing machines overflowing. If your washer won't stop filling even after you've turned it off, the first thing you should do is turn the water off at the valve on the wall.  This will stop the flow of water into the washer.  The second thing you should do is call Presidential Appliance Repair.  If the water does not stop coming in even after turning off the machine, then you need the fill valve (water inlet valve) replaced.  This is the mechanism that opens to let water pass through and into the washing machine.  One or both of the solenoids on the valve is sticking open.  If the water does stop when the washer is turned off, but will overflow if left on, then you most likely need a new water pressure switch.  The pressure switch is supposed to sense how high the water level is and shut the water off at certain levels depending on the setting you select.  One of our friendly, qualified technicians would be grateful to fix your ailing washer.
Problem:    "My drier is not heating, but the drum turns."
Solution:    It is common for consumers to assume it is time for a new drier when it stops heating, however, we are here to tell you that this is often a very inexpensive , easy fix.  Most driers have a thermal fuse inside them that is non-resettable.  This means that if it blows, it must be replaced rather than resetting on its own.  The fuse is very inexpensive and is the most common reason a drier stops heating.  Other possible reasons are a shorted or broken heating element, a clogged drier vent, or a faulty thermostat.  If you are experiencing this problem schedule a service call and have one of Presidential Appliance Repair's master technicians come and diagnosis why this is occurring.  We stock most drier parts on our trucks and can have you fixed the same day you call!